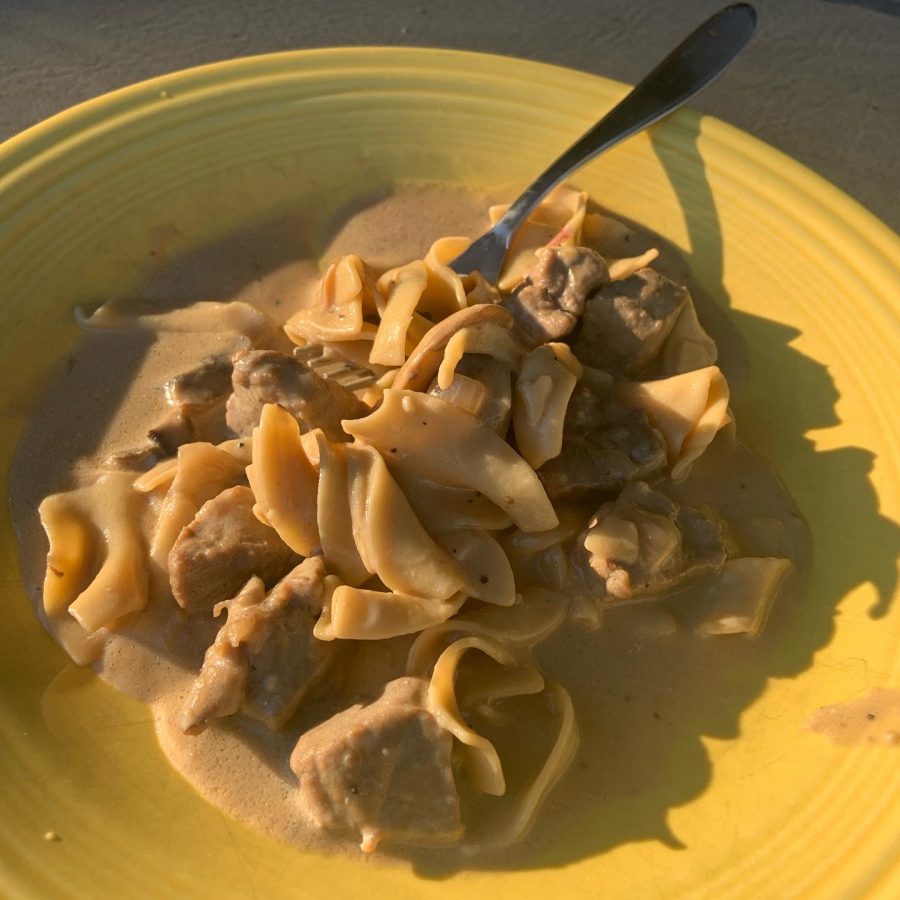 Elle's food blog and recipes: Beef Stroganoff
My brother and I were debating whether or not we should eat Hamburger Helper for dinner. I personally didn't feel like making it because I can't stand the smell of ground beef cooking with nothing else with it. My brother on the other hand was simply craving an easy dinner. So, we compromised and I made Beef Stroganoff. I also did not want to do many dishes, so this recipe was a one-pot recipe. It was easy and it tasted great!
Ingredients:
1 ¼ lb boneless beef sirloin, cut into thin strips or cubes ( you will have to cook it longer if you cube it) 
1 tbsp steak seasoning
4 tbsp butter
1 package white mushrooms, thinly sliced
½ cup finely chopped onion 
1 carton beef broth
½ cup sour cream
4 cups uncooked medium egg noodles 
Freshly chopped parsley ( optional ) 
Instructions: 
Chop the steak sirloin, once chopped, place in a medium bowl and add steak seasoning. In a dutch oven, melt 2 tbsp butter on medium-high heat.  Add steak in a single layer; cook for 4-7 minutes on each side, or until both sides are brown. Place on a plate and cover with aluminum foil and set aside. 

Add the remaining butter to the drippings, melt over medium heat. Add mushrooms and onion. Cook 7-9 minutes or until mushrooms are brown and onions soften. Stir frequently.

Stir in broth; heat to simmering. Place sour cream into a medium bowl. Using a ladle, spoon ½ cup of simmering liquid into the sour cream and stir to combine

Stir noodles into mixture in dutch oven; heat to boiling. Reduce heat to simmer uncovered for 10-15 minutes. Stirring occasionally, until noodles are cooked through and most of the liquid has been reduced ( it should look like a sauce ). Stir in beef and any accumulated liquid; return to simmering. Remove from heat; stir in sour cream mixture. Let stand 5 minutes before serving. 
Note: Add some garlic; the steak seasoning isn't quite enough.