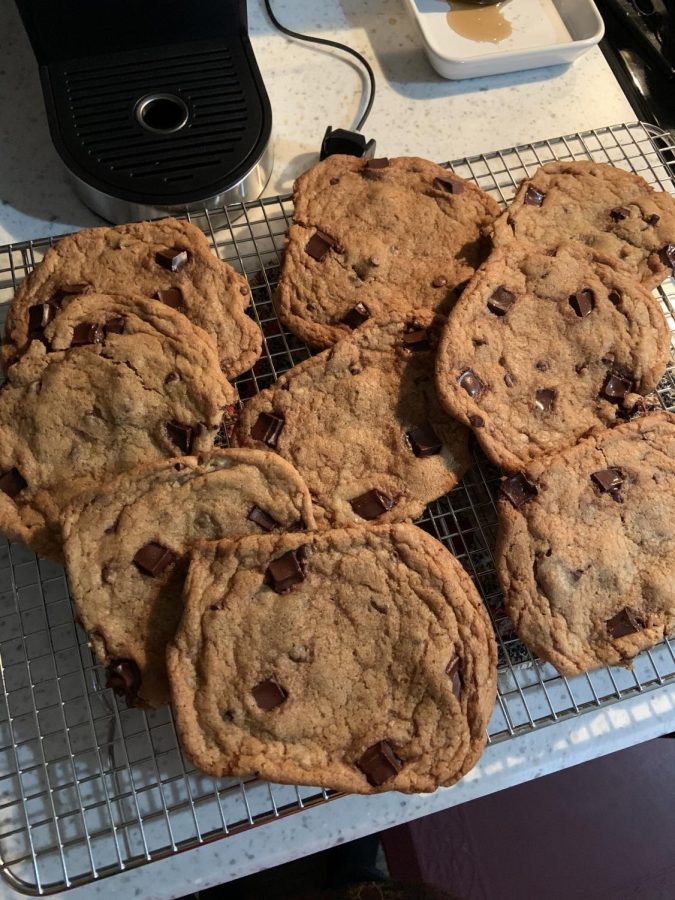 Elle's food blog and recipes: chocolate chip cookies in memory of Wyatt
In times of great sadness and grief, one must find comfort in the simplest things. On October 21, 2021, our school suffered a great loss. We lost a student, Wyatt Oilinghouse, who was a kind and good-hearted person. I know I didn't know him as well as others did, but I do have good memories of him. For example, I remember having gym class with him and being absolutely amazed at how long and fast he could run. I will always remember him as the boy who could run. We hope he would have enjoyed these cookies, too.
Ingredients:
½ cup granulated sugar
¾ cup brown sugar, packed
1 tsp salt
½ cup butter, melted
1 egg
1 tsp vanilla extract
1 ¼ cups all-purpose flour
½ tsp baking soda
4 oz milk or semi-sweet chocolate chunks
4 oz dark chocolate chunk or your preferred chocolate
Instructions:
In a large mixing bowl, whisk together the sugars, salt, and butter until paste forms with no lumps.
Whisk in the egg and vanilla, beating until light ribbons fall off the whisk and remain for a short while before falling back into the mixture.
Sift in flour and baking soda, then fold the mixture with a spatula (be careful not to overmix, which would cause the gluten to toughen and make cakier cookies).
Fold in the chocolate chunks, then chill for at least 30 minutes. If you let the dough rest longer, your cookies will have a richer toffee taste.
Preheat the oven to 350 degrees and line a baking sheet with parchment paper.
Scoop the dough with an ice cream scoop onto parchment paper, leaving at least 4 inches between cookies and 2 inches between the edges of the sheet. Press down to flatten the cookies a tiny bit, and add more chocolate chips if desired.
Bake for 12-15 minutes, or until the edges are slightly golden or brown.
Let cool completely before serving.
Notes: If you do not have an ice cream scoop, just use a ¼ cup measuring cup. It will make really large cookies. I also doubled the recipe in order to share with others, but I notice if a recipe says it'll make a dozen cookies, there always tends to be a baker's dozen (13 or more).